Winemaking underway in Sangri County, Tibet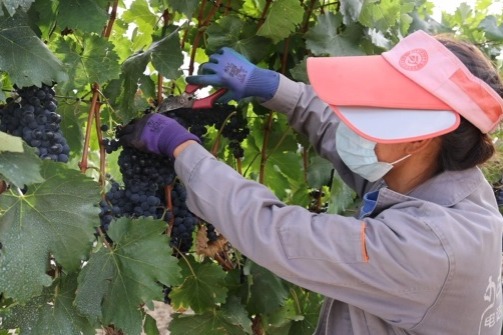 Workers at a winery in Tharma Village, Sangri County, Tibet Autonomous Region, were busy pressing grapes, and the fragrance filled the air.
With an average altitude of 3,600 meters above sea level, Sangri County is endowed with a mild climate and moderate sunshine, which is why it has grown organic grapes in the villages of Tharma , Lok, Horbothang and Drokyi in recent years.
Thanks to investment and technical support from Hunan Province – one of the county's Tibet aid projects – the area of ​​vines cultivated in the county has grown from less than one hectare in 2011 to nearly 666 acres today. She even received a certificate. of the Guinness World Records as the highest place of vine cultivation in the world in 2011.
The plantation also received the certificate from the Regional Directorate for Agriculture and the Rural World in 2021 recognizing its green and non-polluting products.
"The harvest season for grapes and the best time to make wine is now. We have finished picking grapes and have been busy making wine lately," Luo Minglu, an officer of Sangri County Pakdrub Company Rongshun Zhuangyuan Co – which operates the business – was quoted as saying by China News Service.
Luo said the company uses an integration model of enterprise, viticulture and rural households in combination, and has greatly promoted the development of the county's wine industry.
Between 2016 and 2022, the company's cumulative grape yield reached 590 metric tons. More than 500 villagers were employed last year, with more than 2.9 million yuan ($406,000) spent on salaries.
Yangjen Lhamo, an employee, said she and her sister had worked at the company for years. They like the work because it is close to home.
"I earn nearly 6,000 yuan a month and I'm quite satisfied with my current job," she said. "Thanks to the good policies of the government, it is easy to have a better life if we work hard."