With a humanitarian crisis in Ukraine due to the Russian invasion, Nocking Point Wines has teamed up with Hollywood stars Mila Kunis and Ashton Kutcher to raise funds for Ukrainians displaced by war.
Kunis and Kutcher have created a Stand With Ukraine GoFundMe campaign and Nocking Point is selling wine in which all proceeds will go to the GoFundMe account to help support the cause.
Ukraine is Kunis' home country, and she lived there before coming to the United States when she was 7 years old.
Nocking Point Wines, with input from Kutcher and Kunis, has created a label as part of its Wines with Impact program called Outside Wine that will raise funds for Ukraine.
"Our goal was $100,000 and we've already reached it," said co-owner Andrew Harding. "We use wine as a vehicle to raise funds for many different charities."
Nocking Point also raised $3,000 with a Stand With Ukraine concert featuring the Coyote Kings at the winery's new downtown location.
Harding contributed $5,000 of his own money, and many of Nocking Point's business partners also contributed matching funds to support Stand With Ukraine.
Nocking Point owners Harding and Stephen Amell are friends with Kutcher and Kunis.
Harding is from Walla Walla and Amell is best known for his role as superhero The Green Arrow on the TV show "Arrow."
Harding and his wife met Kutcher and Kunis at a ballet class in which the couples' daughters were together. Their two young daughters have become friends.
Impact wines
Nocking Point has donated nearly $2 million to charities, organizations and individuals with the long-term goal of giving $10 million.
"It started with Wines with Impact and people started coming to us," Harding said. "Few wineries do what we do."
Nocking Point also roasts coffee and has a Coffee Club for Cause, with 10% of sales going to the Stand With Ukraine campaign.
Harding said their online platform can quickly raise funds nationwide through contributions from more than 125,000 members of their wine and coffee clubs.
This isn't the first time Nocking Point has teamed up with Kutcher and Kunis.
In 2020, Nocking Point helped bring the celebrity couple's vision for a wine called 'Quarantine' to fruition during the pandemic.
Raising more than $1 million in its first two weeks, the campaign has helped Feeding America and numerous charities providing relief during the COVID-19 pandemic.
How the funds will be used
Proceeds from the purchase of Outside Wine will enter the GoFundMe account and be routed to Flexport.org and Airbnb.org.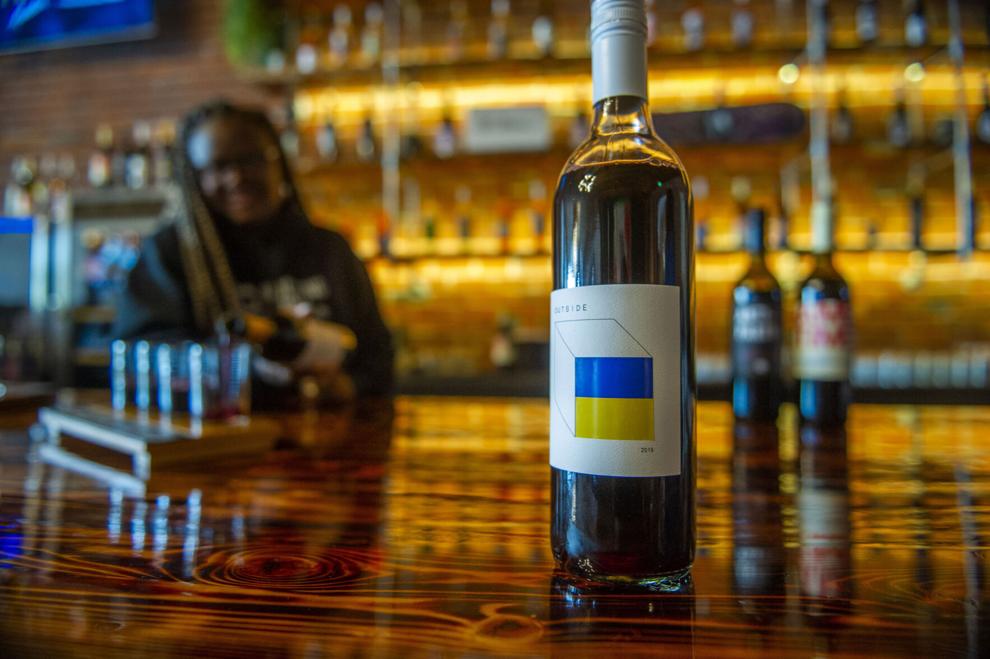 Flexport.org is an independent logistics organization that will deliver shipments of supplies to refugee sites in Ukraine and other neighboring countries for people fleeing conflict.
The provision of food, clothing, toiletries and mattresses will help ease the burden faced by Ukrainians during displacement and Flexport.org can get those supplies to the front lines quickly, according to Harding.
Donations will also go to Airbnb.org and will be used to rent living spaces for refugees when they reach safe destinations.
Not to be confused with Airbnb Inc., Airbnb.org is a separate, independent non-profit organization that helps people find temporary housing who have been affected by war and natural disasters all over the world.
When the bottle is emptied, the sticker inside the label indicates the charity that benefits.
"We wanted to use our platform for good and tie it all in with wine and charity," Harding said.
To learn more about contributing to the Stand with Ukraine cause or to purchase outside wines that support the GoFundMe campaign, visit the website at nockingpointwines.comthen click on the link to Wines With Impact.
10th anniversary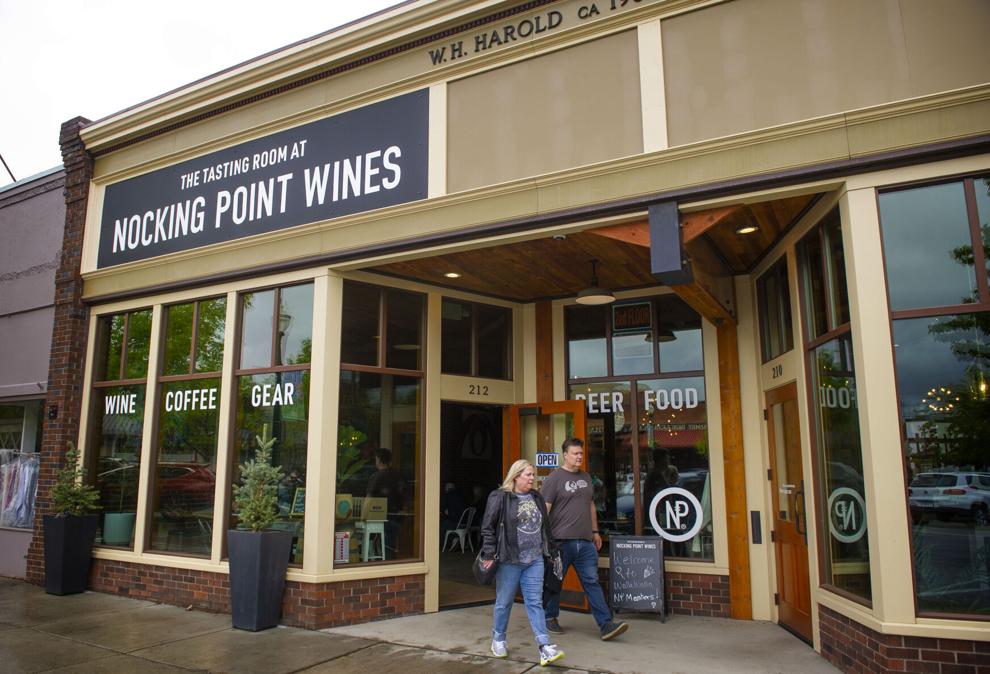 Nocking Point Wines just celebrated its 10th anniversary and recently opened a tasting room in downtown Walla Walla at 212 E. Alder St.
Operations manager Sarah Harding, Andrew's twin sister, doesn't want the place to be seen as a typical tasting room, but rather as a common meeting place for customers.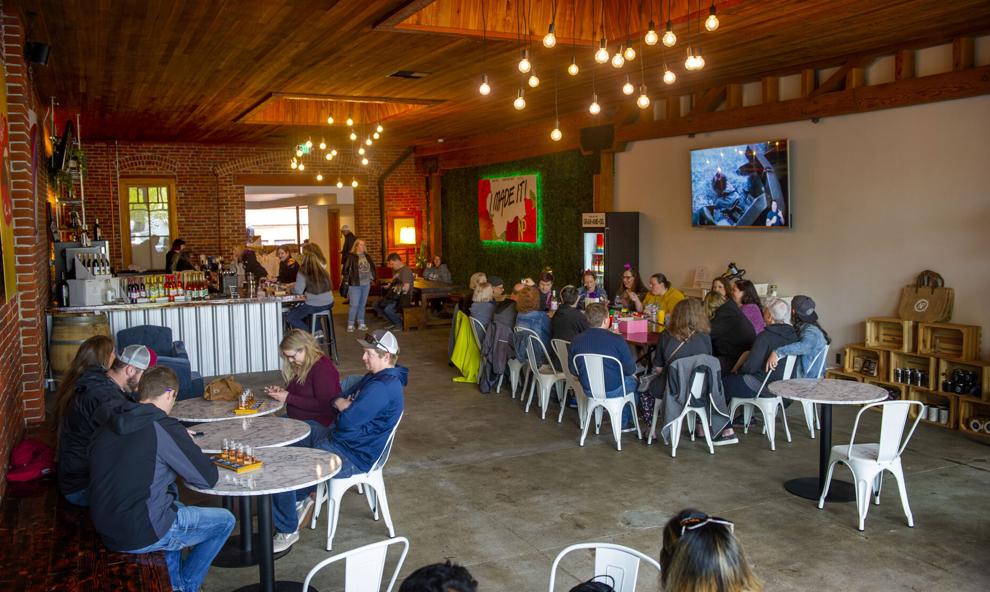 The Hardings also want people to know that they are more than just a winery.
"We produce our own wines here in Walla Walla and are committed to the local community," said Andrew Harding.
Nocking Point does not have its own kitchen but has partnered with Wingman Birds + Brewz to provide dining options at the new location.
Andrew Harding never thought of reaching the ten-year mark as a winemaker.
"At first it was just a hobby for fun," Andrew said. "Ten years later and thousands of wine club members with us, it's incredible. It allows me to keep a real connection with my hometown.