Local wine company signs deals with Food Lion and Sam's Club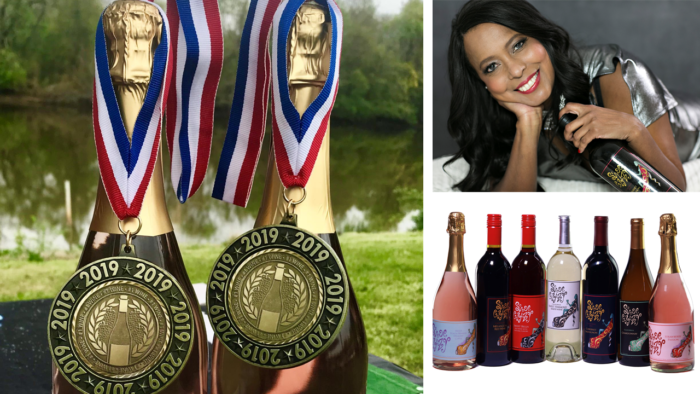 Slowed down a bit but not deterred by the pandemic, a Petersburg-based wine company is ramping up its expansion into large retail stores and stepping up its distribution network.
Shoe Crazy Wine, which founder Gwen Hurt runs with her three children and a family friend, recently signed deals with Sam's Club and Food Lion to get bottles at chain stores in Virginia and North Carolina. The company already has 118 Walmart stores in Virginia and North Carolina, and will expand into the retail giant's stores in Georgia in August.
Shoe Crazy Wine is also expanding its distribution operations in-house with a factory in Durham, North Carolina, launching in June, and a presence in Atlanta coming in September.
Hurt said Shoe Crazy Wine was targeting $ 2 million in revenue in 2020 before the pandemic, which reduced its business by 30 to 40 percent and its staff from 15 to five. In-store wine tastings, essential to the company's success, were no longer possible due to health precautions.
"People buy what they taste, and we couldn't do it anymore," Hurt said. "There is a lot of competition. There are 2,000 wines. I want customers to know that there is someone behind a brand standing behind it, and what really makes people stop and notice is if I say, "Hey, I got it. created these wines. "
Hurt expects sales to rebound to around $ 1.5 million in 2021, driven by sales in the Mid-Atlantic and a growing distribution channel. She set up a distribution branch in Virginia last year in a 27,000-square-foot warehouse, which Hurt said was an upgrade to her garage.
The company increased sales from $ 90,000 in 2018 to just under $ 500,000 in 2019, thanks to a deal with Walmart. Most bottles range from $ 10 to $ 11, and Hurt said production reached 150,000 bottles in 2020, which it plans to triple by 2021 and triple again in 2022.
Shoe Crazy Wine grew through local TV commercials, billboards it posted in Richmond, Chesapeake and Northern Virginia, and social media marketing, courtesy of Hurt's daughter Brittny , which gave him the idea to create the company.
Plant the seeds
Almost all of Hurt's life savings were on the line when she launched Shoe Crazy Wine.
Hurt was injured in a car crash in 2013, shortly after losing her job at Lenovo, where she had risen through the ranks to head of global processes, reengineering and controls. She spent a year in physiotherapy treating her injuries, and she knew she couldn't be of much value to a traditional employer at the time.
This led to her starting her own business in December investing $ 300,000, which Hurt said she got from her buyout, savings, cashing in her 401 (k) and selling her shoes and brand clothes. She said she ultimately couldn't pay her electric bill and her house was foreclosed on.
Hurt aimed to raise $ 1 million from investors, but was only able to raise $ 150,000. She said she sent samples to at least 25 small, medium and large distribution companies, all of whom passed Shoe Crazy Wine. Many were skeptical about betting on her.
"Everyone said, 'No, thank you,'" Hurt said, adding that she had a lot of wine to sell but no one to distribute it.
Breaking into the highly competitive wine industry as an upstart brand was a monumental task, Hurt said. She only knew the industry as a consumer and didn't realize how many thousands of brands were fighting for the same storage space. She has learned that it can take two to five years to break in.
Hurt said he was told on several occasions that no one would buy from a wine business owned by a black woman.
"When you're a woman you're a woman of color, I mean, I come in with two hits," Hurt said. "And yet we endured because I just follow my mother's mantra: 'You are better than what they say you are.'"
Hurt said she had her head held high and self-funded by pumping the profits back into the business, which she called the "molasses route."
She partnered with wineries in California, Washington and Portugal to produce her wines, as she couldn't afford her own vineyard and aimed to provide customers with smooth, sweet wine.
Shoe Crazy Wine offers eight grape varieties: a traditional chardonnay, a cabernet, a red blend, a soft red, a soft white, a sparkling peach / mango, a sparkling strawberry and a brut sparkling. The sweet red blend is the best-selling, and it's called Sweet Bella for Hurt's mother, who died of COVID-19 in April.
Shoe Crazy Wine made its debut at Walmart in June 2018 after Hurt heard that the retail giant was taking the arguments of American brands and adding them to its stores. She hiked 26 hours to Walmart headquarters in Bentonville, Arkansas, with Daniel Hurt, her passionate sales son, and Edwin Gommers, her CFO, stopping at Walmart stores along the way to study their wine racks.
The group then rented a house for a month to prepare for the biggest pitch of their lives. Their goal was to get to know Walmart's shelves as well as the company's wine buyers, and when they finished the 30-minute pitch, their audience had no questions. Shoe Crazy Wine got the deal which has been a stepping stone to success ever since.
New frontiers
Shoe Crazy Wine will participate in army-based, grocery-like exchanges by 2021, an opportunity that has been brewing for four and a half years. Hurt said the military ultimately responded during quarantine, and it's not the only time a military branch has taken their time responding.
Hurt said she emailed and called the Coast Guard exchange every week for years, only missing a week with the flu. They then contacted her, asking her why she hadn't emailed, which sparked a conversation and a deal, which she said was reached in late 2017. Hurt then sent her wine over to her. at Joint Base Andrews in Md. and the Virginia Navy exchange the next year.
"I didn't give up. You just have to keep pushing, "Hurt said. "In this industry, you have to be resilient, you have to be tenacious, you have to have thick skin. And you have to be there for the long haul. "
Hurt said she sees Shoe Crazy Wine becoming a nationally recognized brand and distribution company, and if her wine sells well at Walmart, Hurt believes the world's largest retailer will ask her what she has to offer. else. She plans to offer seltzer, beer and soft drinks, like a strawberry sangria that she sells online, and is waiting for FDA approval before selling it in supermarkets.
Growth through acquisitions is necessary for this vision, and Hurt said she would look for start-ups that have had their doors slammed in their face. Hurt said she knew what brands she would buy if she had the money, although she said it was at least two or three years away.
Hurt said she woke up on some nights, wondering if her foray into other states was the right decision. She expects the business to be profitable in 2021, a year after its original intention, but better late than never.
When the day came, Hurt said she already knew how she was going to celebrate: with her team, to share a bottle of sparkling Shoe Crazy Wine.
"It's going to look like Christmas and my birthday all in one," Hurt said.