A self-service wine bar in Minnetonka offers more than 100 wines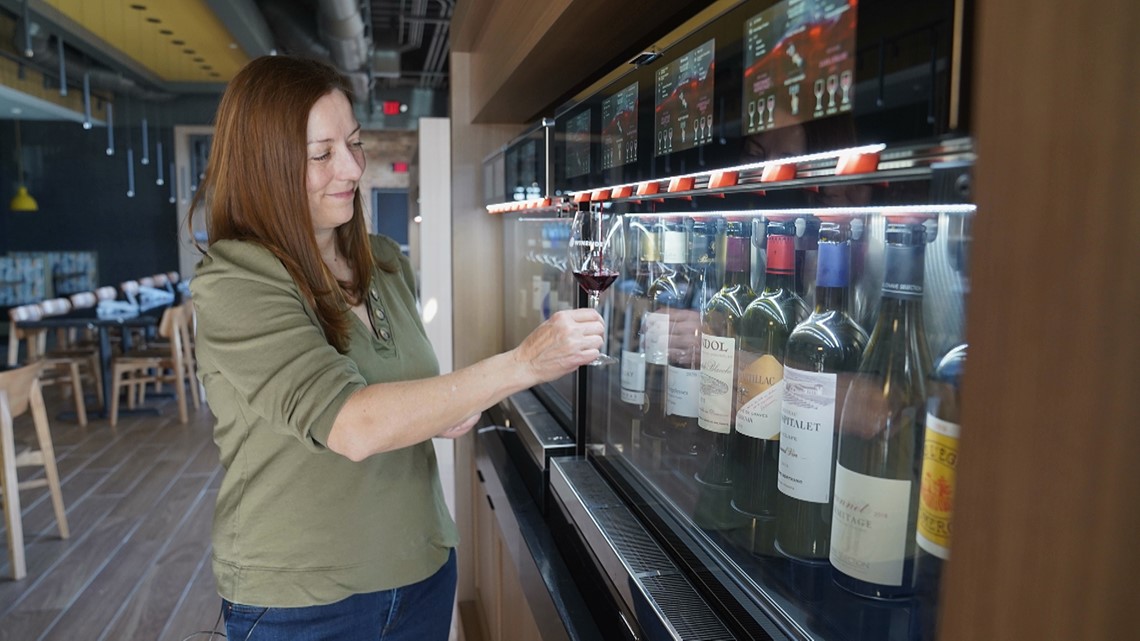 Wineside includes a self-service wine bar featuring 104 wines, a chef-led menu, a gourmet market, and a full-service liquor store next door.
MINNETONKA, Minnesota – There's a new destination for wine lovers, now open in Minnetonka.
It includes a self-service wine bar offering 104 different wines, using enomatic wine dispensers.
"You really can take a great wine trip here," said Jon Halper, owner and CEO of Wineside.
While there are other places in the Twin Cities that have walls of self-pouring taps, Halper said Wineside is unique in the number of wines they offer for tasting or by the glass.
"Retail is an evolving concept. People really want to have a different experience and then just go to a place, find what they want, and leave," Halper said.
Halper, who also owns Top Ten Liquors, said his dream of opening Wineside began about five years ago while vacationing with his family in the Caribbean islands.
After coming across a small wine bar, Halper recalls, "They had all these different wines in these machines and you could walk up and try an ounce or have a glass of wine. I saw how much fun my family was having and how engaging the experience was. was and I decided at some point, maybe I will."
About two years ago, Halper started exploring the idea. He wanted to not only open a wine bar, but make it a complete experience.
"We love our liquor store business, but that's what we think is the evolution of the business where it's really interactive and experiential," Halper said.
"When you walk in, we'll allow you to use a card for our enomatic wine system…it dispenses wine at one ounce, two and a quarter ounces, and five ounces," explained Nikki Erpelding, house manager.
From there, customers can explore the different wines and order food via their phone using a QR code.
Chef JD Fratzke, Food Manager and Wineside Buyer, said it allowed people to graze at their own pace.
"Just order them by everyone. 'Wow, that was really good. I want another one.' Then you order another one on your phone and it comes to your table," Fratzke said.
Fratzke — who was behind The Strip Club Meat & Fish in St. Paul — has worked in the Twin Cities hospitality industry for 30 years.
He worked on a menu for Wineside which includes many plates to share.
"I really like bold flavors. I like flavors that reflect places Minnesotans would sometimes prefer like the South of France, the Mediterranean, Southeast Asia, or North Africa," Fratzke said.
There are three main dishes: braised prime rib, roast salmon and chicken meatballs in red sauce. Fratzke said the braised prime rib is already the most popular of the three; it simmers in red wine with mirepoix vegetables for hours until tender. The menu also includes salads and desserts.
Wineside also includes a gourmet market, cheese aisle, and full-service liquor store right next door. Top Ten Liquors has a section with wine featured at Wineside.
"If you buy a bottle of $50 or more, we'll open it for free at Wineside, so we don't have a corkage fee on a lot of the wine we carry into the store to make it a really different experience" , Halper said. .
Fratzke added, "It's a new way to approach hospitality and we're so lucky to have something like this available to us in Minnesota."
Wineside is open daily from 9 a.m. to 9 p.m. with lunch from 11 a.m.
1641 Plymouth Road
Minnetonka, MN 55305
Know a local business we should feature for our Behind the Business segment? Email Heidi Wigdahl at [email protected].
MORE BTB: Third-generation coffee farmer brings the taste of Colombia to Minnesota
MORE BTB: Oakdale Bakery offers Filipino desserts and more